Designed for admins
Manage your servers like a pro. Access to all your tools from anywhere in the world.
"I would recommend 11/10 times."
Let me start by saying that I have used multiple hosting services for many games over the years and GameserverApp.com stand above the rest.
Shane
GameserverApp.com is doing things that I haven't seen anyone else do, on levels I haven't seen anyone else do.
typeForced
It is rare that a company lives up to its name but GameserverApp.com surely do. The quality of the support and the user-friendly tool itself is what made me change to this host from my previous.
Fillidil
The server performs excellently with minimal lag even with 100 players online.
Chris
GunSmokeRP wouldnt be the success it is without GameserverApp.com. The amount of back end tools available to server owners and admins is fantastic.
CaseFace5
We use our own servers and take advantage of the GameserverApp.com management interface and web page.
Brandon
I must say it works exactly as advertised. No more being a slave to your server, I really mean it
Christopher
All my members are loving the lag free gaming, they are loving the cool features such as automatic greetings
Lisa A.
It should be called web page building for dummies. Because, if i can do it, anybody can.
Michelle G.
Gameserver Community website
Website builder
Form builder
Automated shop for in-game delivery
Accept PayPal payments
Character and Tribe pages
Online tribelogs per tribe
Whitelist application forms
Webalarms via e-mail
Incl. premiumark.net subdomain
Available for self-hosted / 3rd-party servers
Kick & Ban across all your servers
Additional admins (add your admin team)
Chatlog with search
Broadcast to one or multiple servers
Add notes per player
See who was online during a raid
Browse tribes + log
Dino & Item Replacement tools
Search for characters, users and tribes
Automated dedicated servers
10+ maps, switch any time
Easy mod manager
Automatic update (inc. mods)
In-game countdown
Pre-configured servers available
Connected EU & NA servers in a cluster
Config templates
Schedule updates, restarts etc.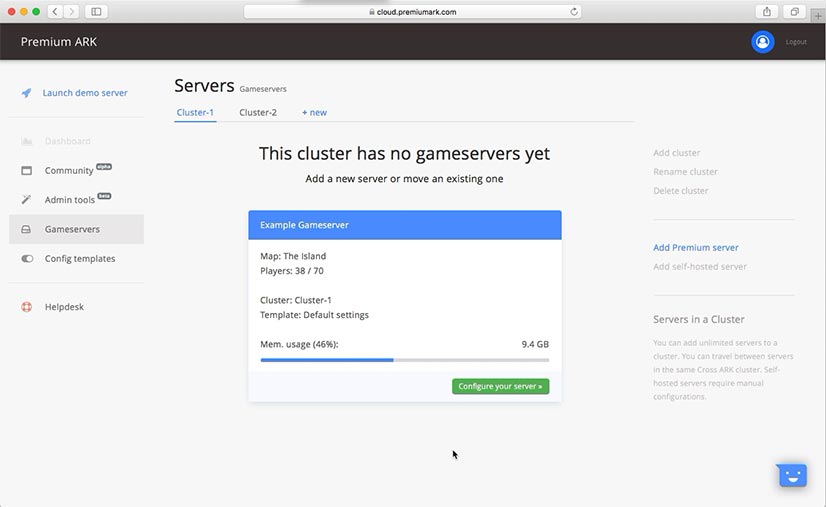 Trusted by 31.000+ STEAM players worldwide.
Launch your free demo gameserver and test it for 2 hours.
No payment credentials required